May 03, 2007
THESIS
I gave my final Thesis presentation on Tuesday at noon at the Interactive Telecommunications Program at NYU. The whole thing came very much down to the wire. I ended up builing the whole presentation in Max/MSP and Isadora. The idea was to have it look exactly like a Keynote or a power point, but with the ability to build interaction and live video processing into the mix. Overall, I think it went well. The archive is here, but I've edited off the first few minutes of the screensaver here as a standalone:
More ITP thesis info here. More ITP Spring Show '07 info here.

Posted by andrew schneider at 05:35 PM | Comments (0)
April 27, 2007
Wearables Final Presentation
I gave my final in-class presentation yesterday. It was for Personal Expression and Wearable Technologies class. I had created the usual Keynote Presentation and was all ready to roll, when I was riding the train to the village in the morning and it struck me that this would be a good opportunity to do something different. Try to out with a bang. Prep for my actual thesis presentation. I knew and I know, I am not going to make a "performance" for the thesis presentation, but I do want to perform the presentation. I can use the devices to talk about the devices. Since I am focusing my final in wearables on the Prolixus (formerly known as the FaceMask) I thought it would be a good opportunity to use the device for what it does best (besides making people feel uncomfortable). I would give my presentation through someone else. I would speak for them. My mouth. Their face. I somehow tricked Kate Hartman into agreeing to help me out. I rigged up a microphone outside the room, and gave Kate the instructions about advancing the Keynote presentation. I could hear absolutely nothing. "Working the room" though obstructed view and no sound is not an easy thing to do. I'm still not sure what the feeling was in the room. Perhaps the documentations below will help. Thanks to Preston Noon for the video and Kate Hartman for the surrogation. The whole class did some pretty amazing work. I especially enjoyed Ben Leduc-Mills' SMS (Secret Messaging Sweatshirt), Kyveli Vezani's work with Ziplock Bags, and Addie Wagenknecht's dirty little secrets. Video of the Prolixus below:
Posted by andrew schneider at 12:50 PM | Comments (0)
April 12, 2007
FaceMask04
I ran into Ilan on the train back to Astoria a couple nights ago and we started talking about various things: About how people in Chicago are too nice. About his inflatable for toddlers. About my thesis. As I was describing the project to him, I nervously realized that in fact, I had gotten it wrong. I would need two camera's per mask. I couldn't just use two wireless cams unless I wanted to split the signal pre-wireless and preemptively route it to it's own mask. I don't want to degrade the signal on the wireless cams any more than I have to. So. Two cams it is. Here's a test with two. For some reason the IR LEDs are still giving me some trouble. Apparently IR light is hard to diffuse. Try it sometime. Let me know.
Posted by andrew schneider at 09:09 AM
April 11, 2007
FaceMask03
My head fits in a bike helmet made for an 8 year old. This is troublesome to me. Though, I guess the label does say "8+." I'm "+." Sure. I made an impulse buy of the bike helmet today because I needed to buy another LCD screen for my thesis, but before I could do that, I would have to test the LCD's I already have, which was the original idea for ordering them. I started to test for differences in quality. Then I realized I would need to test the screen under basically the same circumstances as the original one is currently employed. Which means attaching it to a bike helmet and pointing at my face. So. Before I knew it, I ended up with this. Oh boy. 8+. More about networking the two helmets later.
Posted by andrew schneider at 02:38 AM | Comments (0)
April 10, 2007
TriAx Kicks
Proof of concept, but here we go. I've rubber-banded the TriAxs to my Chuck Taylor's and stole some loops from Apple's Soundtrack files. I've realized that this is funner than I thought it would be. I'll have to spend a bunch more time on the max patch to get things smoother, but, even now, it's a pretty decent payoff for effort. I'm ordering more accelerometers. Here's the proof of concept.
Posted by andrew schneider at 09:54 AM | Comments (0)
April 09, 2007
TriAxMax
I've recently been working with a couple Triple Axis Accelerometer Breakout Boards - MMA7260Q - available from Sparkfun. The process of getting these TriAxs up and running on a breadboard was a cinch thanks to Tom Igoe's tutorial and Rob Faludi pointing out that I needed to take the sleep pin high in order to get the thing functional. I necessarily moved quickly to getting the TriAxs on to perf boards with an Xbee each. These will soon be incorporated into Experimental Devices for Performance so the implementation needs to be small and robust. They'll most likely get a good smashing around.
Working with the Xbee API has proven to be extremely reliable and low maintenance for my needs. It certainly cuts down on hardware. No external microcontrollers are used in this setup. The TriAx gives out a range of 0 to 3.3VDC (the input voltage) on each of its X, Y, and Z axis pins. I'm sending that along via the first three ADC pins on each Xbee. The example below shows a quick test with a Max patch that parses the Xbee packet and maps the values to a gridshape's rotation (X and Y) and position (Z).
I hesitate to post the video because there will most likely be more, better, and applicable documentation soon and because...well...the original background sound was completely uninteresting so I had to liven it up, but I know there are better uses out there for Herbie Hancock's Rockit, especially since this demo is so very dry. I hope to do this song justice one day, but until then here it is:
Posted by andrew schneider at 07:58 PM
April 08, 2007
FaceMask01
And on it goes. I've finally integrated, albeit with gaffer's tape, all of the components of the FaceMask on to the bike helmet. A screen covering the mouth, a small wired camera,a video Ipod, two wireless custom perf boards, and a lithium-polymer battery to power the whole thing are now held in place with gaff-tape and rubber bands.
As briefly explained in the video, the idea is to have two of these devices with one of the perf boards on the opposite helmet, and vise-versa. This way you can "slap" your mouth on to some one else's face and they can do the same to you. The interaction is not limited to slamming your head against a hard object. It's just what is in my thoughts at present.
This new perf board is fairly simple. I've built a standard 5 volt circuit for the atmega8 chip then regulated the voltage further to 3.3v for the Xbee. There's a debugging LED on pin 13 of the atmel. The only other big thing on the board is a 3VDC DPDT relay. DPDT means double pole double throw. Basically I'm using the 6 pins as a manual video A/B switcher. The three blue terminal blocks other than the terminal block for the power, are wired to the relay. I've wired up two sets of two pins with signal and ground from two video sources - one from the video Ipod and one from the camera behind the screen which is pointing at the mouth. The other set of two pins is the signal and ground to the screen. I take the coil pin high to switch between contact with the two video signals.
I had a bunch of trouble after I got everything on the perf borad with the chip freaking out when the coil demagnetized, or magnetized to rapidly on and off. I thought perhaps there was some back voltage that was causing the problem so I threw a 3.3v Zener diode before and after the coil. No dice. Next I noticed my lack of any decoupling capacitors. I threw a 10uF cap before the 5v regulator, a 1uF cap after, and some on before and after the 3.3v regulator for good measure. This seems to have done the trick. I think the voltage was dropping when the relay was being fired.
The perf boards were a bitch to put together. In the course of prototyping the breadboards I also inadvertently fried three, count them three, Xbee's simultaneously by putting an unregulated 9 volts through their cute little blue bodies. All dogs go to heaven. I've heard the same is true for honey bees. We can only hope this extends to Xbee's. I'll order $60 worth of new bee tomorrow.

Posted by andrew schneider at 01:45 PM | Comments (0)
April 06, 2007
FaceMask
The face mask has been going through different iterations lately. I've repositioned the camera on the back, added new IR LEDs and diffusers and am now using a lithium-polymer battery instead of a DC converter for all the power. This contrast of the image is helped by the IR LEDs, which makes the viewing angle a bit better as well. I've also got my Xbee circuit set up on a perf board as explained in the video and as seen in the pictures below.
Last but certainly not least is the Max patch that I've been working on (screen shot / .sit). Compare this new patch with what I was doing in the old version. Many thanks to Luke DuBois for the help with efficiency of parsing in Max and to Rob Faludi for help with general Xbee packet information and for letting me borow his dongle.
Next up is getting more screen for the eyes, then duplicating everything and patching them together wirelessly. Three weeks to go!
Posted by andrew schneider at 04:12 PM | Comments (0)
March 19, 2007
Screen Test
I bought a couple of small screens to test from EarthLCD. (The guy I spoke with on the phone was an asshole. Just saying.) The screens are about 5" each. One is black & white and one is color. The plan is to test these out, and buy more of the one I like better The following are short tests with the screens. Eventually...these will go on my face.
What's happening: The two camera's respective signals are being sent across a DPDT (Double Pole Double Throw) relay. One signal and one ground to separate poles on one side. When the relay is thrown either way, one of the two camera's signals is connected and the image shows on the screen. The relay is being triggered by a lower voltage (5VDC) relay which itself is being thrown by pulling a pin high on an Atmega8. The Atmega8 is reading analog data (pulseIn (Arduino)) being transferred from an Xbee wireless module whose pair Xbee is doing an analog read of a Piezo sensor.
Basically. When the Piezo is shaken enough, the camera is switched. A debounce function is thrown in for good measure.
Posted by andrew schneider at 06:38 PM
March 09, 2007
100 sketches, part 2
"I've decided to do some sketches. Well, not some...100. I'm going to try to get these things out 25 at a time. Over the course of the next few nights I'll be taking time lapse video of these improvised sketches in action." (from the previous post) The second 25 sketches were much harder to complete than the first. I actually had to take a water break after about ten or so sketches. I wasn't thirsty.
I'm not actually sure this is helping.
Link to the 100 sketches, part 2 video - the second 25.
Link to the 100 sketches, part 1 video - the first 25.
view the start of the project.
My apologies. I won't be able to roll these out by the weekend. Spring Break closes the floor Saturday and Sunday so it's me without my white board. Perhaps I'll break into the grade school behind my house.
Not in a bad way.
Posted by andrew schneider at 02:56 AM
March 08, 2007
100 sketches, Part 1
I'm in a rut. I am a highschool lover. I am an adolescent trying to complete his master's thesis. The thing that is really tying me up is an inability to actually start. To actually dive in. Get physical. Physical. Mostly I'm not 100% sold on my idea. I'm not 100% sure I know exactly what my idea is for that matter.
In lieu of these revelations, I've decided to do some sketches. Well, not some...100. I 'm going to try to get these things out 25 at a time. Over the course of the next few nights I'll be taking time lapse video of these improvised sketches in action. The documentation is both for archival and motivation. The archival of erased sketches allows me to revisit all off the sketches at a later date in a different medium than the traditional sketch. The motivation is a time-based one. Once the camera starts, it doesn't stop until all 25 sketches are done.
These sketches are meant to be directly related to my thesis, however, I'm not going to worry about drawing rubbish. Anything and everything will be committed to and not over-thought. In this way, the sketches are an ideation improvisation exercise.
Yesterday's dailies post was taped during the same period and used as an idea generator and palette cleanser.
Here's the link to the video.

Posted by andrew schneider at 01:11 AM
February 13, 2007
thesis
I've decided to start a seperate blog specifically for my thesis at the Interactive Telecommunications Program at NYU. As of this writing (02/07) I am not actively linking to it as I would my other work. This is a semi-private document and thought space. I need to set it up in this way to give myself structure while also allowing a lot of play. The signal to noise ratio may be a bit more 50-50. I am going to try to make this a hyper-active scrap-book. I'll be post anything and everything as I see fit. No need to justify. It all fits into my thesis somehow. My thesis...Experimental Devices for Performance. (for now)
I'm not going to post a link to it, but if you'd like to see it just drop me a line.
Posted by andrew schneider at 02:11 AM
February 09, 2007
Things I've always wanted to say to you
A Public Apology -

This morning I hit the foot of a woman in front of me with the bar of the revolving subway turn-style coming out of the 8th street downtown N train exit.
The Scene:
She's walking slowly. She's in a Robert Wilson stage direction she's walking so slow. She's walking next to a turtle. I am stuck behind her. We get to the turn-style. She waits two full revolutions. Nothing. No signs of any forward motion. I do a half-committed open-palm Virgin Mary thing behind her and finally she enters the turn-style. I make it a point to get in at the next slot to show her that it's not just one person per revolution, but one person per slot, making it in fact three people per revolution. The thing that I do not do, is push. I simply keep her pace, immediately behind her. She exits. I keep her pace. It's a good three feet until that next divider bar of the turn-style is gonna fly by at a blazing 1-2 mph. Somehow....somehow it grazes the back of her heel. And then I exit. And then she turns, looks and me, twists her face, and walks toward the wall. She puts her hand up against the wall, for support I'm assuming, and makes that mad-faced open-mouthed subdued-but-animalistic low growl. And shouts, "why did you do that! you should have waited." "I'm sorry," I say. I say I am sorry four or five more times as I walk next to her, speedily now walking up the stairs. She turns the corner. And I say I am sorry.
These types of things have been happening lately. I'll be in a rush, and commuters will be strolling along like it's national hands-in-your-pockets-day. They'll be in my way and they'll be moving slowly and I'll accidentally brush their elbow with the turn-style. They'll be walking up the stairs two at a time, when it's obvious there are lines established. I won't get out of the way. They get out of the way a bit too late. Out shoulders meet, we are both shocked at the force. They'll be slow on the steps. I'll accidentally find their Duane Reade bag underfoot. Crunch.
I've decided that this cannot weigh on my conscience any longer. I have decided to make a public apology.
I've coupled this idea, with an exploration in Wearables. This is a self-user test. The next step is to get the proper screen and build the wearable device to hold it in place.
And yes.
I'm sorry
Posted by andrew schneider at 02:09 PM
February 07, 2007
5 page concept
Andrew Schneider
THESIS SEMINAR
Spring 2007
Wednesday 3:30 – 6:00
Caren Rabbino, Instructor
Thesis concept paper.
Thesis statement:
Experimental Devices for Performance are wearable and handheld devices used for media interaction in experimental performance. Being performer oriented, the devices make the connection between media and performer inseparable. The performer affects the media through the devices and the devices affects the performer. Together, they become the performance.
Overview:
Experimental Devices for Performance roots itself in the history of technological stage innovation. Artaud, Marinetti, and Kandinsky were some of the early adopters of technology in the arts. Marinetti's Manifesto of Futurism firmly planted the machine into a generation of artists to come. Technical innovation for the stage continued to rapidly evolve since then. Today, everything from live video manipulation, to dancing robotics is considered performance. Multimedia theatre companies like The Wooster Group have pioneered the integration of video and narrative performance. These artists have turned to technology as the lens through which to view their art. As technology continues to proliferate and change our relationship to the world and to ourselves, I propose to update this lens by introducing technology into my performance. I am building a series of devices embedded with sensors to be used in performance. I am most interested in the live manipulation of media though haptic response to a performer's movement. The devices currently include prototypes for a pair of sneakers and a hat. I will describe the prototypes separately and then explain the proposal for newer prototypes to be built.

The sneakers use sensors embedded in the heel to detect the height of the foot off the ground. This information can be transmitted to an off-stage computer and used to manipulate audio, video, lighting, and mechanics. The sneakers are a pair of ordinary tennis shoes connected to a pair of wireless transmitters attached above the performer's calves.
The hat is outfitted with wireless and wired video cameras, a wireless lavaliere microphone, and a Piezo sensor. The wireless video cameras and microphone transmit image and voice to various screens and speakers. The wired cameras are connected to the device with exposed leads of conductive fabric. Physical contact with an output device is required for the operation of the wired video cameras. In this way the hat is used both to constrain movement and as a manual video switcher.
Other proposed devices include small wearable screens and speakers, as well as custom built handheld screens and speakers.
Rational:
I want to make experimental performance. An elemental building block of performance is movement. Dance, theatre, and film all incorporate movement as a part of their language. Theatre incorporates blocking to move the action along by literally moving the characters. Dance uses movement and gesture as a language in itself. Film and video uses camera movement (such as the tracking shot) as well as intra-media movement (such as the jump-cut or optical flow) to move the action. The common characteristic of movement can be used to fuse together dance, theatre, and film. Experimental devices for Performance use the movement of performers to control and manipulate media.
I am interested in creating performance that utilizes constraints. The devices are built in such a way to augment natural movement. For instance, the leads of conductive fabric on the devices require a physical connection with an output device in order for the image to be transmitted. This constraint dictates the movement of the performer. In this same way, other microphones, cameras, speakers and televisions are placed in awkward positions so as to require the performer to perhaps squeeze his head under a couch in order to use a certain microphone, or slam his face against the floorboards in order to be seen by a certain camera. This can be seen as a metaphor for the way technology both overtly and covertly affects our everyday action.
I use video and sound in stage performances, in part, to borrow from the language of film, which carries with it a different toolbox than theatre. For instance, theatre does not have the "close-up" in its vocabulary. I borrow the "close-up" from film terminology and couple it with stage techniques such as magnification extension to achieve a unique effect somewhere between video and performance. These couplings will be further exploded though rehearsal and experimentation.
Goals:
The physical design must be robust. The software side of things must also allow for flexibility and change. The devices should be able to be used under different performance circumstances and venues. For example, all of the devices might be used to develop, rehearse, and perform a piece in a traditional black box theatre, while only one of the devices might be used to give an impromptu performance on the subway ride home from the theatre.
The devices should be modular. Many devices can be used at once or one device can be used alone. This way, the maximum amount of performances can be conceived, with little or no co-dependency on any of the other devices.
The devices should be designed toward a common aesthetic. For example, I have chosen to use New Balance brand sneakers in the design of a prototype because they are accessible as objects. This is to say, I see people wear New Balance sneakers on a regular basis. I wear New Balance sneakers. They are comfortable, practical, and do not stand out as anything other than common tennis shoes. This is what makes them accessible to an audience as performance tools, or performative objects. All of the designs for Experimental Devices for Performance should be approached in this way. They should be practical, comfortable, and not signify anything outside of what they are.
Audience and/or market:
The audience I envision for this project is the audience that already frequents the seats of the "downtown" New York theatre scene. It is a private audience in the sense that they have paid for their tickets. They have come to see a performance. They have taken on the roll of audience. The contract has been made. I hope to appeal to this market the strongest. I am also interested in gaining the attention of presenting institutions, and residency-granting organizations such as Performance Space 122, H.E.R.E., and Eyebeam. Outside of this private sphere I am looking to entertain a public audience. I would like to use the devices for impromptu street performance. This performance would most likely appeal to those who enjoy public spectacle. The public performances would be a more casual interaction between performer and audience. The audience becomes the audience when they start paying attention. There is no performer/audience contract in public performance of this kind.
Environmental scenario (specific location, time it will take someone to use it, etc):
I would like Experimental Devices for Performance to be used for experimental performance inside and outside of the traditional theatre space. The devices should be built in a way that minimizes set up time and reliance on external technical needs. They should be as self-contained and "plug and play" as possible. This way they can be used first inside the rented rehearsal space, then transition easily to the performance space. Experimental Devices for Performance will be built primarily for the standard black box theatre that includes a basic lighting board, soundboard, and power supply. Most, but not all devices will require this minimum technical backend. A few of the devices should be self-contained enough to operate without any external amplification or power needs other than what can be carried on the body of the performer. The devices can be used in a performance of any length.
Media and technology proposed, and core features:
I propose to use a plethora of media for the completion of this project. Live video and audio will be fed back into the performance as part of the show. Prerecorded and found video footage will be played back, controlled, and manipulated by the performer. Much of the footage I plan to use will be found during the rehearsal period. The specific footage I will use will depend less on the content of the media, and more on the look and feel of the media. Prerecorded and live audio will also be played back, controlled, and manipulated by the performer. I plan to use the programming language Max/MSP to synthesize and manipulate live vocal input. For instance, the performer's voice will be made to sound unnaturally high or low by using a pitch-shifting patch.
Video will be played back, controlled, and manipulated mainly using Max/MSP and Isadora. Manual manipulation of magnetic videotape may also be performed.
Live and prerecorded audio and video will also be used to affect itself. Sound levels may affect the vertical roll of a television screen. Video tracking may be used to raise or lower the pitch of the vocals. Feedback loops will be created and experimented with for content and spectacle.
The technology specific to the devices I propose includes various sensors for input, microcontrollers and radios for processing and transmission, and speakers and screens for output.
The prototypes for the sneakers include a photocell in each heel. The information sent and received varies depending on how much or how little light the sensors are exposed to.
Similarly, the hat includes a Piezo sensor to detect how much or how little the performer's head is moving.
All of these embedded sensors talk to on-board microcontrollers also embedded within the devices. The microcontrollers process the information being gathered the sensors and send it along to wireless radio transmitters called Zigbee radios. Each Zigbee radio has a twin that listens to it on the other end. This twin Zigbee feeds the data it gets into a computer running Max/MSP or Isadora or both.
Ballpark budget or what it would need to be made real:
Looking at my proposal for the technology and media I will use, I can reasonably assume that I will need $500 to $1,000 to complete this project. I am only taking into account device experimentation and new prototype manufacturing in this estimate. I am not taking into account manufacture beyond what I have described here. The expense for back-end technical support in the theatre space varies with each institution and is also not taken in to consideration in this estimate. Back-end technical support in the theatre includes external equipment and cabling, various mixing boards, lighting and soundboards, projectors, extra televisions, and speakers.
Criteria for success:
Experimental Devices for Performance will be judged by the seamlessness of integration it achieves in performance. Due to this particular criteria's subjectivity and reliance on outside factors such as performance quality, writing quality, and staging, I have decided to give the success of the performance itself very little weight in the overall assessment of Experimental Devices for Performance's success. More weight will be given to the device's physical and technological stability under the duress of performance.

Posted by andrew schneider at 09:01 AM
February 02, 2007
Experimental Device for Performance - Wearables Project.02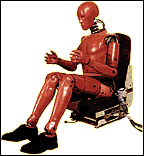 Project:
create an item of clothing using wool, cotton, leather, and electronic component, conductive fabric or thread.
Process:
I've decided to start bringing in thesis idea influences early on in this class.
Experimental Devices for performance is this weeks working title. You can read more about my thesis proposal and research here or here as a pdf (34k)
For this project specifically I am interested in exploring soft video. As an initial exploration into this topic I decided to see whether or not it is possible to send composite video signal over conductive thread.

Looks like it's all systems go for now.
I've decided to start with some sketches that I've made during our first week of class. Then it's on to construction.
The Hat

I am using a hat-on-hat combo that I usually wear as a daily fashion choice. The under-hat is a New York Yankees hat with a rigid brim. This will be used to attach the cameras. The over-hat is a crocheted black cap that Kristin made for me. This will be used as a place to put the conductive fabric video lead patches as well as housing for batteries and wires.
The cameras are my standard low-cost security camera of choice from super circuits. I've used coat hangers from the dry-cleaners to attach the cameras to the hat.
The camera's composite output terminates in a standard female RCA connection (there is no sound). I've made my own male RCA connector that terminates on the opposite end in a snap connection. The signal and ground of the video cable are soldered to two seperate female snaps. This is done to be able to make a solid connection between the wires and the conductive fabric of the patches. (Soldering to conductive fabric or thread is not very feasible.) The male side of the snaps are sewn to the crocheted hat with conductive thread, which is also used to sew the pathes of conductive fabric to the hat.
Now the camera's RCA output leads are connected solidly to the individual patches of the hat. One for signal and one for ground. In this way I will be able to reverse engineer this process on the television side of things.
The Television

Two patches of the same conductive fabric are attached to the television and positioned so they line up with the patches on the hat. Signal to signal and ground to ground. The same fabric sewn to snap and snap soldered to wire technique that was used on the hat is implemented here.
After I attach some 9V batteries and hide them in the fold of the skull cap, the first prototype of Experimental Devices for Performance # 1 is ready to be demo-ed.

Result:

Posted by andrew schneider at 04:28 PM
February 01, 2007
5 page contextual research
Andrew Schneider
THESIS SEMINAR
Spring 2007
Wednesday 3:30 – 6:00
Caren Rabbino, Instructor
The purpose of this paper is to provide a contextual background to the development of Avant-Garde-Ables, my thesis project for the Interactive Telecommunications Program at NYU. Avant-Garde-Ables (working title) are a series of wearable, performer-oriented devices for the direct real-time manipulation of live and prerecorded media in the live performance space. For the purposes of this paper I will use the term media to refer to video, audio, lighting, and mechanisms. These devices will be used to develop and refine the action of a specific performance in parallel development called PLEASURE (working title). PLEASURE is a one-man show exploring the human condition in a technologically saturated and hyper-everythinged world.
The protagonist of the story, while an individual physical being, adopts multiple personalities through the aid of media in order to explore and cope with self-identity and rejection. Television monitors are strewn about the stage - acting sometimes as a traditional chorus might, and acting other times as the antagonist of the action.
In order to understand the specifics of the literal state-of-the-art when discussing live theatre, it is necessary to understand its background, history, and most importantly, current innovation and implementation techniques. In the following pages I will briefly discuss the history of avant-garde theatre and quickly move into describing the present day practice of incorporating media and technology into live theatrical performance. I will also dedicate a large portion of the writing to the significance and implications that specific technological trends have in current performance practices. Lastly, I will discuss the specific technology I will be using in the development of this project.
Avant-garde is an often-misunderstood term. Literally meaning the "front guard" in French, the term was pulled from military-speak of the 1800's and refers to the "advanced guard" of the French military who were sent ahead of other troops to scout terrain. The term is often used in an artistic mode to describe works of art that are experimental and innovative, often with a focus on culture, politics, even art itself. Avant-garde is often misappropriated, however, to mean anything that is outside of the mainstream artistic trend. In this way we can see why avant-garde is sometimes referred to as "art for art's sake." Bert Cardullo, in his book Theater of the Avant-Garde 1890 – 1950, takes the meaning of avant-garde as a "leading edge" one step further when he states, "the avant-garde…becomes that element in the exercise of the imagination that we call art which finds itself unwilling (unable really) to reiterate or refine what has already been created." In effect, we need to do something new. Cardullo further states, "Many would identify in the avant-garde not merely a tendency to retreat from the maddening disorder of the world for the purpose of creating, through art, an alternative, visionary, eternal order but also a tendency to absorb the world's chaos into the work of art itself." This is especially important and relevant to the theatre, where form, for the most part has stayed relatively static for millennia with small variations here and there. The problem was that the way theatre traditionally worked was through the strict confines of linear narrative. Again, Cardullo points out that "theater artists became aware of the illogicality of too much literalism in the procedure of a medium that is essentially make-believe." With the advent of the Industrial Revolution, comes an artistic revolution. Within the avant-garde, the traditional narrative form, and subsequent sub-forms of theatrical technique can be exploded. Cardullo goes on to claim that "…avant-garde drama was directly affected by the new god of science – by new scientific discoveries and the advanced technologies of the machine age, in their constructive as well as destructive capacities" which is why we see avant-garde's early association with the likes of Futurism, Expressionism, Surrealism, Dadaism, and Absurdism, by the more specific early adopters such as Alfred Jarry, Maurice Maeterlinck, Kandinsky, Marinetti, Tzara, Artaud, and Gertrude Stein.
From this intersection of art and the machine age, it is very easy to fully incorporate new forms of technology and media into a theatrical setting in fascinating and innovative new ways. One pioneer in the effective use of modern technology in live stage performance is the New York based performance ensemble, The Wooster Group.
During a talkback at a recent remount of "House/Lights" at Saint Ann's Warehouse, artistic director of the company, Elizabeth LeCompte, remarked of the company's use of television monitors instead of flat-screen displays, "It's a period piece." However odd this may sound, it reifies the notion of the exponential growth of technology in the past 100 years. Wooster has incorporated technology into their pieces from a very early stage. "House/Lights" had its debut at the Performing Garage on Wooster Street in 1999. By the time it was remounted in 2004, it had already become antique in a way. This is a fascinating demonstration of the need of technology-incorporating theatre practitioners to live on the cusp of the current media environment, to ensure that their work has the most impact and relevance. This is not to say that the most current technology needs to be incorporated into a piece, however it may behoove a company such as The Wooster Group to know the current media trends. How else could LeCompte know that the media from a show originally produced five years prior already felt dated - and thus make the appropriate decisions based on that knowledge?
During my time working on the remount of "House/Lights" I was able to gain a good working knowledge of the creation process of the company. LeCompte, who was trained as a painter, chooses specific "constants" that are then compared, contrasted, and which eventually inform each other. These constants can be text, activities, set construction, found media, sound, etc. "House/Lights" specifically uses the constants of the text from Gertrude Stein's "Doctor Faustus Lights the Lights," a reconfigured set from a previous production of "The Hairy Ape," and a "B" soft-core porn movie called "Olga's House of Shame" from the 1960's. During the rehearsal process, LeCompte actively runs these three constants against each other and pulls out the good bits. The layering begins. What is fascinating about "House/Lights" specifically is the success of the telling of Stein's Faustus tale through the use of found pornography, and the ultimate transcendence of any of the individual media, becoming a tale not of the struggle between Mephisto and Faust, but of the struggle between LeCompte and one of the group's core actors, and a leading presence in the group, Kate Valk. This is an ultimately successful use and incorporation of media in the context of live performance. Not only do the actors on stage mimic the actors on screen, but they also mimic the very language and carrier of the media itself, the television. The staging mimics television's vernacular. "Jump cuts" are successfully executed on stage. The canned soundtrack from television media is incorporated live. The Wooster Group is talking the media's language. In this way the group is able to do a show both using the media, commenting on the media, and being the media. What comes across is a dense and rich story. That is what ends up at the center; the story.
Other theatre practitioners whom I've come across in my research make technology, rather than the story, the main focus of their performance – or at least focus the majority of their energies there. The Blue Man Group, for example, focus the majority of their energy on gimmicky, albeit highly entertaining, interaction between themselves and technologically clever stage gags, and more often, between themselves and themselves. They are leaders in bringing technological and expressionistic performance into the mainstream, as well as in the use of developing customized performance devices. While many of their onstage devices tend toward musical instrument, their incorporation of the body into those instruments is valuable to observe. Venturing even further into the realm of technological performance to a place that can still be considered theatre on some level, is a man who goes by the moniker, My Robot Friend. More robotic in appearance than human, My Robot Friend's identity approaches cyborg. Almost all attention is focused on the wearable devices the performer dons. In fact, the devices arguably become the performance. MRF's performance suit includes a helmet of LED's, lengthening and retractable fingertips, and a crotch covered in what is too reminiscent of a fire extinguisher for comfort. In this way, the performance becomes only about the technology. While the wearer is himself a self-contained vehicle of performance and all control comes from inside the suit, the story fades away while gadgetry is presented as grand spectacle. Although my use of technology aims to bridge the disconnect between performer and onstage media in a way that My Robot Friend and Blue Man arguably do not, I do value the importance of spectacle as an engaging storytelling tool.
Take the work of Chicago's Plasticene Theatre Company for example, and their use of what is called a "resource." A resource can be anything. It can be a piece of technology, or a piece of furniture. A recent choice was a series of large metal tables. Plasticene chooses a resource and works with that resource as a creative tool for inspiration and as a concept around which to develop a language and material. The result is spectacle, but with a richness which the others do not attain. Many others can be looked at to see their own uses of technology for augmenting performance, such as the content-free work of Caden Manson's Big Art Group and their 2004 production of "House of No More," who create a soap opera in front of the audience's eyes by use of a specially build green-screen stage and a dozen or so live video cameras, or the absurdist work of Brooklyn-based Radiohole complete with devices to shake the limbs of the body for no discernable reason.
The work of filmmaker Roy Andersson in particular resonates with the notion of a balance between spectacle and storytelling. In interviews, Andersson talks of finding a "pictoral solution" to the visual representation and the framing of scenes. Each shot is meticulously planned out and staged. Although Andersson's work is in a different medium, it becomes more theatrical due to the deliberate lack of quick camera work, no intra-scene jump cuts, and a slow, contemplative pacing. Everything in Andersson's film is given its proper playable moment.
Many more artists, musicians, and performers have an influence on the current state-of-the-art ranging from Laurie Anderson, Mike Albo, Taylor Mac, to M.C. This, The Builders Association, and the SITI Company. Companies like Elevator Repair Service continue to push the state-of-the art without the use overt technology, but rather a signature prop and movement style. In this way the state-of-the art is necessarily innovative, not necessarily technological.
When working with sensor embedded performance, movement takes the forefront – how will the movement be detected. The first solution is a "smart" sensor accelerometer. Doing some tests with the 3 axis LIS3LV02DQ accelerometer from ST Micro as well as weighted and non-weighted piezoelectric film sensors, I have realized that simple circuits and "dumbly" detecting movement gives more low level control than an IC does. Rather than use one Accelerometer, which requires the interpolation of data if not kept on a flat surface, I plan to use an array of low-level sensors deployed throughout the devices.
To conclude, I find it necessary to state that it is not my intention to create a work that is "avant-garde." Nor is it my intent to create a "post-modern" or "performance art" piece. I will use qualities from each as they and other things have greatly influenced my work, however, I see them more as houses to burglarize rather than houses to live in. To this end, I will be working with a structure defined by the objects and the making of the objects themselves. As Cardullo points out:
In this kind of theater, among other things, all production elements speak their own language rather than being mere supports for words, and a text need be neither the starting point nor the goal of a production – indeed, a text is not even necessary, and therefore there may be none. In other words, fidelity to the text, that sacred tenet which had so long governed performance, has become irrelevant: postmodernism, both as critical inquiry and as theater, continues to challenge whether any text is authoritative, whether a dramatic text can be anything more that a performance script – whether, in fact, the play exists at all before it is staged.

Posted by andrew schneider at 07:07 PM
January 24, 2007
week.01
start.
Posted by andrew schneider at 02:37 AM