August 24, 2007
toJanice
Just got back from the Janice Dickinson Modeling experience. Wowsers. Here's my documentation. The segment doesn't air until December. More later.
Posted by andrew schneider at 01:44 AM | Comments (0)
August 21, 2007
model
I'll be in LA this morning (right now I'm in NYC) to shoot a segment for the reality TV show, The Janice Dickinson Modeling Agency. Janice wants to turn her agency green. I'm there to help, and to get het into the solar bikini. I'll be back in NYC tonight, god willing. More to come.
Posted by andrew schneider at 04:23 AM | Comments (0)
August 07, 2007
SIGGRAPH unravel 2007
It's the SIGGRAPH UnRavel festival 2007 in sunny San Diego California! I just wish I was actually there. I'm doing some really artsy shit in Chicago, but thanks to some last minute favors from great friends, it looks like everything is working out alright for the solar bikini during this two-day event. A nice spread this morning on the BBC's website including othe ITPers Jenny Chowdhury and Joo Youn Paek. I can't wait to roll out the iDrink!
Posted by andrew schneider at 08:47 AM | Comments (0)
July 09, 2007
Solar Objectification
Oh boy. The Solar Bikini was covered today by the national news personality Kurt the Cyberguy on the CW11 in NYC, KTLA in LA, and WGN in Chicago. The solar bikini has gotten press before, but none of this magnitude. A fairly good first showing for the first person who has actually put the thing on. Thanks to Preston Noon for being my doppelgänger and the bikini's "handler" while I was away in Chicago. All in all a decent summer so far for the bikini. I may have to take Preston's advice though on the PayPal account for SolarCoterie. I'm flat broke with hundreds of dollars worth of solar bikini on my hands.
I believe the proper quote to end on would be, "you don't really need an iPod, because we all have music inside our head."
thank you.
Posted by andrew schneider at 09:15 PM | Comments (0)
May 03, 2007
THESIS
I gave my final Thesis presentation on Tuesday at noon at the Interactive Telecommunications Program at NYU. The whole thing came very much down to the wire. I ended up builing the whole presentation in Max/MSP and Isadora. The idea was to have it look exactly like a Keynote or a power point, but with the ability to build interaction and live video processing into the mix. Overall, I think it went well. The archive is here, but I've edited off the first few minutes of the screensaver here as a standalone:
More ITP thesis info here. More ITP Spring Show '07 info here.

Posted by andrew schneider at 05:35 PM | Comments (0)
April 12, 2007
FaceMask04
I ran into Ilan on the train back to Astoria a couple nights ago and we started talking about various things: About how people in Chicago are too nice. About his inflatable for toddlers. About my thesis. As I was describing the project to him, I nervously realized that in fact, I had gotten it wrong. I would need two camera's per mask. I couldn't just use two wireless cams unless I wanted to split the signal pre-wireless and preemptively route it to it's own mask. I don't want to degrade the signal on the wireless cams any more than I have to. So. Two cams it is. Here's a test with two. For some reason the IR LEDs are still giving me some trouble. Apparently IR light is hard to diffuse. Try it sometime. Let me know.
Posted by andrew schneider at 09:09 AM
April 11, 2007
FaceMask03
My head fits in a bike helmet made for an 8 year old. This is troublesome to me. Though, I guess the label does say "8+." I'm "+." Sure. I made an impulse buy of the bike helmet today because I needed to buy another LCD screen for my thesis, but before I could do that, I would have to test the LCD's I already have, which was the original idea for ordering them. I started to test for differences in quality. Then I realized I would need to test the screen under basically the same circumstances as the original one is currently employed. Which means attaching it to a bike helmet and pointing at my face. So. Before I knew it, I ended up with this. Oh boy. 8+. More about networking the two helmets later.
Posted by andrew schneider at 02:38 AM | Comments (0)
April 08, 2007
FaceMask01
And on it goes. I've finally integrated, albeit with gaffer's tape, all of the components of the FaceMask on to the bike helmet. A screen covering the mouth, a small wired camera,a video Ipod, two wireless custom perf boards, and a lithium-polymer battery to power the whole thing are now held in place with gaff-tape and rubber bands.
As briefly explained in the video, the idea is to have two of these devices with one of the perf boards on the opposite helmet, and vise-versa. This way you can "slap" your mouth on to some one else's face and they can do the same to you. The interaction is not limited to slamming your head against a hard object. It's just what is in my thoughts at present.
This new perf board is fairly simple. I've built a standard 5 volt circuit for the atmega8 chip then regulated the voltage further to 3.3v for the Xbee. There's a debugging LED on pin 13 of the atmel. The only other big thing on the board is a 3VDC DPDT relay. DPDT means double pole double throw. Basically I'm using the 6 pins as a manual video A/B switcher. The three blue terminal blocks other than the terminal block for the power, are wired to the relay. I've wired up two sets of two pins with signal and ground from two video sources - one from the video Ipod and one from the camera behind the screen which is pointing at the mouth. The other set of two pins is the signal and ground to the screen. I take the coil pin high to switch between contact with the two video signals.
I had a bunch of trouble after I got everything on the perf borad with the chip freaking out when the coil demagnetized, or magnetized to rapidly on and off. I thought perhaps there was some back voltage that was causing the problem so I threw a 3.3v Zener diode before and after the coil. No dice. Next I noticed my lack of any decoupling capacitors. I threw a 10uF cap before the 5v regulator, a 1uF cap after, and some on before and after the 3.3v regulator for good measure. This seems to have done the trick. I think the voltage was dropping when the relay was being fired.
The perf boards were a bitch to put together. In the course of prototyping the breadboards I also inadvertently fried three, count them three, Xbee's simultaneously by putting an unregulated 9 volts through their cute little blue bodies. All dogs go to heaven. I've heard the same is true for honey bees. We can only hope this extends to Xbee's. I'll order $60 worth of new bee tomorrow.

Posted by andrew schneider at 01:45 PM | Comments (0)
April 06, 2007
FaceMask
The face mask has been going through different iterations lately. I've repositioned the camera on the back, added new IR LEDs and diffusers and am now using a lithium-polymer battery instead of a DC converter for all the power. This contrast of the image is helped by the IR LEDs, which makes the viewing angle a bit better as well. I've also got my Xbee circuit set up on a perf board as explained in the video and as seen in the pictures below.
Last but certainly not least is the Max patch that I've been working on (screen shot / .sit). Compare this new patch with what I was doing in the old version. Many thanks to Luke DuBois for the help with efficiency of parsing in Max and to Rob Faludi for help with general Xbee packet information and for letting me borow his dongle.
Next up is getting more screen for the eyes, then duplicating everything and patching them together wirelessly. Three weeks to go!
Posted by andrew schneider at 04:12 PM | Comments (0)
March 19, 2007
Screen Test
I bought a couple of small screens to test from EarthLCD. (The guy I spoke with on the phone was an asshole. Just saying.) The screens are about 5" each. One is black & white and one is color. The plan is to test these out, and buy more of the one I like better The following are short tests with the screens. Eventually...these will go on my face.
What's happening: The two camera's respective signals are being sent across a DPDT (Double Pole Double Throw) relay. One signal and one ground to separate poles on one side. When the relay is thrown either way, one of the two camera's signals is connected and the image shows on the screen. The relay is being triggered by a lower voltage (5VDC) relay which itself is being thrown by pulling a pin high on an Atmega8. The Atmega8 is reading analog data (pulseIn (Arduino)) being transferred from an Xbee wireless module whose pair Xbee is doing an analog read of a Piezo sensor.
Basically. When the Piezo is shaken enough, the camera is switched. A debounce function is thrown in for good measure.
Posted by andrew schneider at 06:38 PM
February 23, 2007
BlinkCam in action
With the BlinkCam fixed and up and running, I've decided to take it out onto the streets. Many more pictures soon to come. In the mean time - I've documented some public interaction:

click to play
more here
Posted by andrew schneider at 04:41 PM | Comments (0)
February 20, 2007
Experimental Device for Performance - Wearables Project.03 (update -- fixed!!!)
Last week I detailed the construction of what I am now calling the BlinkCam. Unfortunately, I shorted the circuitry of the camera itself. It powers up, but the switches no longer trigger the shutter as intended.
The only solution was to purchase a fresh polaroid for hacking. Same steps as before, and In about a half hour I've got myself a working BlinkCam! Check the demo here.
And check these hot pics!
Can't wait to take it to the streets!
UPDATE LINK!!! - takin' it to the streets!
Posted by andrew schneider at 07:12 PM | Comments (0)
February 18, 2007
Experiment002
This weekend I performed in the build/decay festival at The Tank. It was my first opportunity to incorporate Experimental Devices for Performance into a live stage performance. I used the video hat I've been working on and demoed for the second week of Wearables class. There are some improvements made to the last version. The current build includes 3 enlarged patches of conductive fabric for the leads as well as two sets of eyelash switches (see this entry for more on eyelash switches). Many thanks to Lauren Rosati for putting the festival together and Mike Rosenthal and The Tank for being generally awesome.
And the biggest thanks to Ariel Efron for documenting the show. Thank you!
Video is below.
view the program
Posted by andrew schneider at 07:59 PM
February 15, 2007
Experimental Device for Performance - Wearables Project.03
Hack a device. This week's project focuses on re-appropriating cheap consumer technology for use in a wearable. My device of choice was the point and shoot Polaroid 600 instant camera.
But how to make it into a wearable?
Camera technology has always fascinated me. The image is a powerful thing, but with the image's exponential proliferation and exploitation, what value does the image still hold? Is image still truth. Is it still time? Is image iconic? These are the things I've been thinking about heading into this weeks project.
With this in mind, I've decided to make a wearable that takes a picture of the wearer. I want the shutter to be activated by a gestural action that does not involve pressing a button - preferably an involuntary action. Here's what I've come up with:

(click to play)
A camera attached to a bike helmet that takes a picture using the eyes as physical switches. That's right. The eyes as physical switches and conductive fabric glued to my face.
And here's how I got there:
First I need to get a new Polaroid camera with a momentary push-button switch instead of a mechanical switch (usually found on the older models) to trigger the shutter. It is amazing how fast Polaroids are disappearing from the market these days. You can buy a digital keychain camera for half the price of a new Polaroid. What's more, a 3-pack of film for a Polaroid costs about as much as the camera itself. An expensive habit.
Time to hack the Polaroid. These cameras are usually fairly well put together as any light sensitive equipment should be. The thing about instant Polariods though is that they are usually snap together. Luckily this model has 3 tiny screws holding the sides together after it pops open. After taking the screws out I carefully pry off the top to reveal the innards. The goods:



I've located the shutter release as pictured above and determined through testing that the center switch and one of the periphery switches need to be closed simultaneously to trigger the shutter to release. With this figured out I can go on to snipping the existing wires and soldering leads for new switches that I'll add later.
Getting the casing back together is surprisingly easy, with a little care. My camera appears to be back in working order. Testing the new leads I've soldered only requires closing the switches. That just means touching all the wires together at once. Flash. Good. It works.
I'll run these leads along a wire hanger I've bent to attach the camera to a bike helmet. I'll terminate the leads in half-snaps so that I can convert the wire to conductive thread for the switch interface. (See this post for more info on snaps and converting wire to conductive thread and fabric)
On to the switches.
Swithces. Binary. Open. Closed. Eyes. Binary. Sexy. Why. Why not?
I've always wanted to translate the movement of eyelids to the opening and closing of a switch. Using conductive fabric, conductive thread and some spirit gum, I've finally got a solution.
I've cut the conductive fabric in thin strips and frayed the edges to give them more of a fake eyelash look. I've carefully sewn the conductive thread to the lashes at one end and to the other half of my snap connectors at the other. I attach them to my face making sure that the leads don't touch eachother. I snap the lash switches to the snaps on the helmet and I've got a working system.
With the switches wired up correctly, the wearer has to close both eyes at the same time to get the shutter to release. This way all you get are pictures with the wearers eyes closed.
Most pictures look something like this: link
Posted by andrew schneider at 10:13 PM
February 09, 2007
Things I've always wanted to say to you
A Public Apology -

This morning I hit the foot of a woman in front of me with the bar of the revolving subway turn-style coming out of the 8th street downtown N train exit.
The Scene:
She's walking slowly. She's in a Robert Wilson stage direction she's walking so slow. She's walking next to a turtle. I am stuck behind her. We get to the turn-style. She waits two full revolutions. Nothing. No signs of any forward motion. I do a half-committed open-palm Virgin Mary thing behind her and finally she enters the turn-style. I make it a point to get in at the next slot to show her that it's not just one person per revolution, but one person per slot, making it in fact three people per revolution. The thing that I do not do, is push. I simply keep her pace, immediately behind her. She exits. I keep her pace. It's a good three feet until that next divider bar of the turn-style is gonna fly by at a blazing 1-2 mph. Somehow....somehow it grazes the back of her heel. And then I exit. And then she turns, looks and me, twists her face, and walks toward the wall. She puts her hand up against the wall, for support I'm assuming, and makes that mad-faced open-mouthed subdued-but-animalistic low growl. And shouts, "why did you do that! you should have waited." "I'm sorry," I say. I say I am sorry four or five more times as I walk next to her, speedily now walking up the stairs. She turns the corner. And I say I am sorry.
These types of things have been happening lately. I'll be in a rush, and commuters will be strolling along like it's national hands-in-your-pockets-day. They'll be in my way and they'll be moving slowly and I'll accidentally brush their elbow with the turn-style. They'll be walking up the stairs two at a time, when it's obvious there are lines established. I won't get out of the way. They get out of the way a bit too late. Out shoulders meet, we are both shocked at the force. They'll be slow on the steps. I'll accidentally find their Duane Reade bag underfoot. Crunch.
I've decided that this cannot weigh on my conscience any longer. I have decided to make a public apology.
I've coupled this idea, with an exploration in Wearables. This is a self-user test. The next step is to get the proper screen and build the wearable device to hold it in place.
And yes.
I'm sorry
Posted by andrew schneider at 02:09 PM
February 05, 2007
daily015
I'm posting a link to the dailies here only because daily015 bears a strong resemblance to what I am developing for a possible upcoming wearables project. This short clip is a very basic proof of concept demonstrating augmented reality using very specific screens in very specific ways.
More intimate versions are soon to come...
Posted by andrew schneider at 11:51 PM
February 02, 2007
Experimental Device for Performance - Wearables Project.02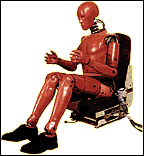 Project:
create an item of clothing using wool, cotton, leather, and electronic component, conductive fabric or thread.
Process:
I've decided to start bringing in thesis idea influences early on in this class.
Experimental Devices for performance is this weeks working title. You can read more about my thesis proposal and research here or here as a pdf (34k)
For this project specifically I am interested in exploring soft video. As an initial exploration into this topic I decided to see whether or not it is possible to send composite video signal over conductive thread.

Looks like it's all systems go for now.
I've decided to start with some sketches that I've made during our first week of class. Then it's on to construction.
The Hat

I am using a hat-on-hat combo that I usually wear as a daily fashion choice. The under-hat is a New York Yankees hat with a rigid brim. This will be used to attach the cameras. The over-hat is a crocheted black cap that Kristin made for me. This will be used as a place to put the conductive fabric video lead patches as well as housing for batteries and wires.
The cameras are my standard low-cost security camera of choice from super circuits. I've used coat hangers from the dry-cleaners to attach the cameras to the hat.
The camera's composite output terminates in a standard female RCA connection (there is no sound). I've made my own male RCA connector that terminates on the opposite end in a snap connection. The signal and ground of the video cable are soldered to two seperate female snaps. This is done to be able to make a solid connection between the wires and the conductive fabric of the patches. (Soldering to conductive fabric or thread is not very feasible.) The male side of the snaps are sewn to the crocheted hat with conductive thread, which is also used to sew the pathes of conductive fabric to the hat.
Now the camera's RCA output leads are connected solidly to the individual patches of the hat. One for signal and one for ground. In this way I will be able to reverse engineer this process on the television side of things.
The Television

Two patches of the same conductive fabric are attached to the television and positioned so they line up with the patches on the hat. Signal to signal and ground to ground. The same fabric sewn to snap and snap soldered to wire technique that was used on the hat is implemented here.
After I attach some 9V batteries and hide them in the fold of the skull cap, the first prototype of Experimental Devices for Performance # 1 is ready to be demo-ed.

Result:

Posted by andrew schneider at 04:28 PM
January 27, 2007
Blood & Semen Earrings - Wearables Project.01
This week's task had us create out own Venus of Willendorf (Wikipedia link). Many things about this project allow for wild interpretation. When creating this archival object we are encouraged to think about what we want to represent personally. What do we want to leave behind as an artifact of our relationship to ourselves and to the world.
One of the most interesting speclations regarding the Venus of Willendorf I came across in my research was from collective know-it-all Wikipedia. It states,
"The statue's feet don't allow it to stand on its own. Due to this it has been speculated that it was meant to be held, rather than simply looked at. Rather than an icon of a Mother Goddess some archaeologists have called it merely a good-luck charm.[citation needed] Others have raised the possibility that it was designed to be inserted vaginally, perhaps as a fertility charm, to become pregnant. Yet others have suggested that the object could have been a male masturbatory aid. The purpose of the carving is subject to much speculation."
I find this part about fertility especially fascinating. Thinking about fertility, life anew, in the same context as thinking about what archaeologists will find of us in thousands of years is an interesting notion. Birth and death. Objects to literally help with life. Charms. Pornography.
Knowing that I want to explore this project in three distinct areas (the personal, the cultural, and the archaeological) I've come up with a set of components to use:
blood
semen
ice
jewelry
medicinal miscellanea

...and so I made earrings. Genetic jewelry.
First I need to draw blood. I've borrowed a couple of insulin syringes from a friend.
Next I need the semen. (silence)
Okay. So I'll use the blood and semen that I've collected and fill empty gelatin capsules (the kind that you get from the Vitamin Shoppe).
These will start to dissolve fairly quickly after coming into contact with liquid, and even quicker when that liquid is warm. Because of this I've chilled some water in an ice cube tray to the point immediately proceeding the first signs of crystallization. I've formed wire into the earring shape and length that I want in order to hang about the neck in a certain way. The wire is affixed to the side of the ice cube tray and will hold each gelcap in place while it freezes. Wait until they are completely frozen.
Then wait 26,000 years for an archaeologist to discover them and make some fairly bold statements about our world. Oh, and there's always the possibility of clones from the genetic material stored within the earrings. Getting the ice to melt is the fashionable part.








blood.
semen.
fashion.
Wear your heart. Wear your sex. Wear some one else's. Excessorize.
Posted by andrew schneider at 12:19 AM
January 22, 2007
week.01
Posted by andrew schneider at 01:58 AM