Interface == Internet == sharable
Internet. We use and interact with it every day. So I want to make the 360 images available on the web where other people can have access to my website.
And this week's assignment to create my own interface is perfect for what I am doing in Networked media class where I learned to create my own servers and databases.
So what I am developing is an early development stage of a media management tools where I can easily take snapshots, saved the images onto my cloud database and output the saved images onto the web page.
Login/Signup Page.
Landing Page.
One Page Web – ajax call
Saved Data to the database, retrieved from the back-end and output into the front-end.
I used ajax to retrieve the saved data from mlab and I was very surprised to see these flooded of letters and alphabets just like in the movie matrix…. I would have never thought back then that I'll be sitting right here like Keanu Reeves like "whattttt????"
Video's snippet of when I saved images to mongo. As you can see, the data is humungous.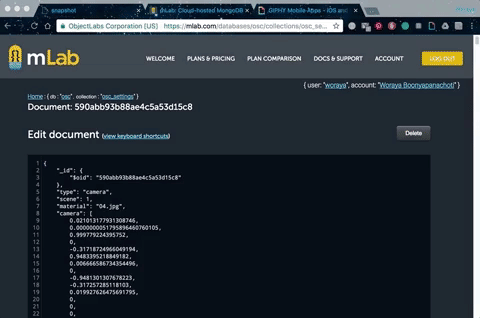 Kinectron
Then I tried to add my presence to the 360 images live. I found that there was too many information being sent through the web. At first, I thought the keying process did not work properly but then I found out when I opened Lisa's kinectron example from her github account. I found out that Lisa's simple keying example won't stop sending keying data through the server until at 2273 keys (pictures below). But when I tried with 360 images, keying stopped at 67 keys (sorry I didn't snap a picture).
What's next?
search tab – since I have the data saved into my mongo database, I can write the js code to call these saved images out.
upload – I hope to add uploading features from my local laptop to my server whether they are:

360 images – scenes
3D models and rigged animation
2D kinectron images
1-2. 360 images – upload features through server, node, and express
3. 3D Rigged Animation – I want to have a feature like a button where I can add a 3D asset myself online in 3Dspace.