Overview
First sculpts!  We're going to learn some quick ITP-friendly sculpting techniques. We will learn ways to make our designs real.
Artists to Watch
Jason Freeny
Kanokid
Marina Sabio
Meetissai
Show and Tell
We will show and discuss our work and get it ready for display.  Tape turnaround sketches to the wall.  Display your wooden blanks on the stand.
Displaying Work
We will be showing our work publicly on the floor.
The Toys That Made Us
Which episode did you watch?  What did you think?
Modeling/Sculpting
Our goal is to take your turnaround sketch and translate it into the 3D world.
https://www.instagram.com/p/Bj-d1A8AcYu/?utm_source=ig_web_button_share_sheet
Gorilla toy walk through.
Sculpting Techniques
Paper Mockups
Pepakura
Pepakura, or papercraft, are models constructed mainly from sheets of heavy paper, paperboard, card stock, or foam.  Usually, software is involved.
Hand Sculpting
Polymer Clay Super Sculpey
Super Sculpey is a polymer clay that stays pliable until it is baked and then it can be painted.  If you have experience with clay modeling this medium should be familiar.
Apoxie Sculpt
Apoxie Sculpt combines the features and benefits of sculpting clay with the adhesive power of epoxy, does not need to be cooked.
https://www.instagram.com/p/BvnK14_Fec9/?utm_source=ig_web_copy_link
Aluminum foil sculpting
Cheapest, cleanest, fastest way I can think of to go from drawing to a 3D form.  Crush, crumple, push into a form.  Great for the first roughing-out models to get a sense of scale.
CAD
CAD can be turned quickly into a 3D print or CNC'd object.
Simple Volumes
If CAD is new to you, try creating characters with simple volumes: spheres, cones, cylinders.
Or build a form out of a combination of simple extrusions.
I typically use Vectorworks, but any CAD software that exports to a .stl or.obj file should work.
Some simple shaped toys: Danbo, Green Haro
CAD Medium
Medium is a VR CAD sculpting program.  It is closer to sculpting by hand than traditional CAD.
Subtracting
Removing material from a block.  Typically a material that is soft and easy to sculpt.
Blue Foam Modeling
Hand sculpting a form from blue insulation foam.  A typical material used by industrial designers.  The affordable foam can be worked quickly.  Creates a lot of dust.
Drill/Sand/Saw/Route/Mill/Turn/File/Carve
Typically done to wood.  Our shop is set up well for these techniques.
Found Materials
Kitbashing, ready mades, …
Almost all of the toy prototypes from The Toys That Made Us were built with or on top of existing toys.
Kitbashing
Taking parts/pieces from existing model kits, plastic objects, or toys to create original pieces.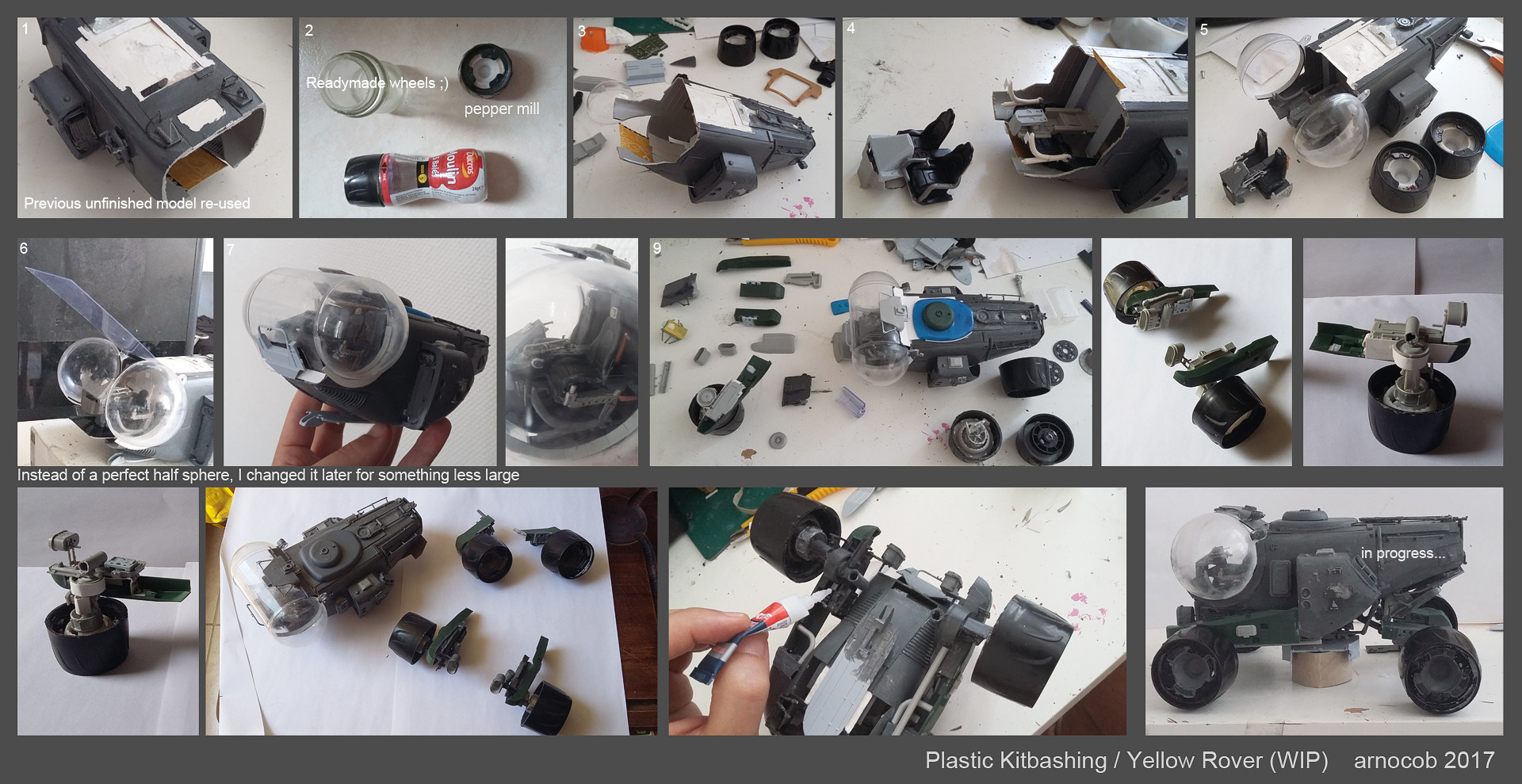 Mashups/Bootlegs
Taking casts from existing toys (or existing toy parts) and restructuring them into original pieces.
Junk Shelfing
If you're lucky you can find some great parts on the junk shelf.
Vacuum Forming
Making your own plastic pieces.
Flat Stock Sculpting
Stacking/Layering Flat Stock for 2.5D Sculpting
Stacking flat stock to create your object can be quick, cheap, and iterative.  Paper, cardboard, thin wood, and acrylic work well. Easy to try different colors.
Flexible Sheet Material
Flexible material can be bent or curved to create you form.  Paper and vinyl are great for this.  So is the vinyl cutter.
2.5D Relief 
Shallow etching can create some interesting effects with thin material.
Styrene Scratch Building
Using nothing but styrene and styrene weld, you can build models from scratch.
In Class
Aluminum Foil Sculpting
Kitbashing/Vacuum Former/Junk Shelf
Medium modeling demo
Assignment
You will sculpt your piece .  This is not your final version, there will be more to come.  This is to make it real.  Check for scale.  Form.  Color.   See if you're on the right track.  Blog and Instagram your work.  You might have to make more than one.
---
Related Reading/Viewing
Kit-Bashing and Scratch-Building
Basic Bondo for Designers and Model Makers
How to Make Paper Craft Models