Overview
As much as character design or sculpting, material choice can be a huge influence on the final piece.
Vinyl, resin, and cast plastics are popular in the art toy world.  But these are not typical materials we work with at ITP.  We're going to look at some ITP friendly and non-traditional material choices for art toys.
Display Our Work
Take a few minutes to display this weeks assignment.
Artists to watch
Lou Lou's Woodshop
Sad Salesman (Eric Althin)
Blamo
Ed Mironiuk
Chika Toys
Provides advanced digital media services to NYU faculty, students of the arts, and visiting artists. Services include 3D printing, 3D scanning, and project design consultation.
Materials
Material can add meaning to your piece.  Is it high end?  Delicate?  Exotic?  Polished?  Crude?  Juxtaposed (wooden robot)?
Typically, art toys are made mostly from vinyl or resin.  But we have a different list of ITP friendly materials.
Choosing the right material is only half of it.  What material technique or process do you plan to use to work with the material?
Keep in mind, your final pieces can be made up of one or many different types of material, as well as being made with one or many different material techniques.
Natural Wood
https://www.instagram.com/p/BNNATAWhRSC/?utm_source=ig_web_button_share_sheet
Wood shouldn't be too foreign for us.  Wood comes in a variety of sizes, shapes, and species.  Picking out a species of wood can add a lot to a piece.
Traditional wood working techniques are cutting, carving, sanding, drilling, routing, filing, Dremeling.
David Week's Studio makes quite a few wooden designer toys.
what-did-i-eat-ephunt – Amanda Visell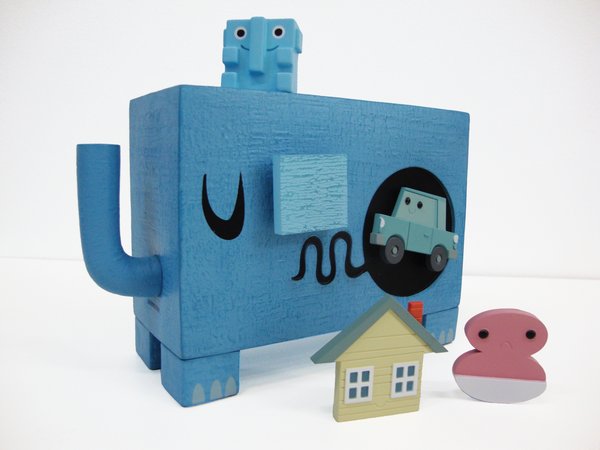 Plywood
https://www.instagram.com/p/ByKl7zfo82A/?utm_source=ig_web_button_share_sheet
At ITP we have a few specialty wood working tools.  These machines require more experience or training to use.
Wood Turning (using the lathe)
View this post on Instagram
CNC Milling: 4 Axis mill, 3 axis mill
Laser Cutting and Engraving
View this post on Instagram
Be warned, it is difficult to "elevate" a wooden laser cut project.  Design, technique, and finish can aid in this.
https://www.instagram.com/p/BzTGQ_MJQHP/?utm_source=ig_web_button_share_sheet
Plastic
We use a lot of acrylic, delrin, sheet vinyl, PLA, and styrene around here.
Milled Acrylic Inlay (not laser cut acrylic)
3D Prints
https://www.instagram.com/p/BwdA0mnhSnX/
Be warned, it is difficult to "elevate" a plastic 3D print.  Design, technique, and finish can aid in this.
Vacuum Forming
Cut Vinyl
Heavy Eyes Diver and Shark
CNC Milling: 4 Axis mill, 3 axis mill
Metal
Most likely aluminum or brass if you are working with it in our shop.  You can mill it, turn it, roll it, punch it, and nibble it.  It can even be 3D printed (Shapeways or Metal infused filament).
Fabric
You can make plush pieces.
Felt
Acrylic felt can be laser cut.
Horrible Adorables

Needle Felting
Leather
Leather can be cut, embossed, laser etched, wet formed, milled, and or dyed.  It adds a high end element to a toy.
Circuit board material FR4 Printed Circuit Board Material
Def Con Badges

K7 – Pedro Galvão Cesar de Oliveira

https://www.instagram.com/p/BbmSKJlnD_7/
Exotics
I don't expect most of you to try these materials, but I haven't seen a lot of art toys made from these materials.  Possible to be one of a few working with these materials.
Cast Concrete
Ceramic
https://www.instagram.com/p/BcnfzbbHsc9/?utm_source=ig_web_button_share_sheet
https://www.instagram.com/p/BkxxU4AB82h/?utm_source=ig_web_button_share_sheet
Paper/Cardboard
Mushrooms
In the Fungus Among Us class, we found that mushrooms can be molded into forms with pretty good results.
Home Fabrication Friendly Materials
Epoxy Clay: Milliput
Styrene and styrene weld builds
In Class Demo
Acrylic Inlay
Slip Roll
Vectorworks Demo
Assignment
Pick your material(s), pick your process, and get going.  I want to see a sculpt that is close to the finished product.  Think of it as the first run piece from your 4 piece line.  Don't worry about finish yet (unless you want to).
You should pick material that is fitting for your piece.  Pick a technique you enjoy or want to learn.
---
Related Reading/Viewing
Filablend – uniquely colored 3D printer filament
Building Beautiful Boards with Star Simpson
Successful Experiments in Multicolor Circuit Boards
Darth Vader Vinyl Cape Replacement
Wooden Race Car Toy Made on a 4 Axis CNC