Overview
Sometimes the package your toy comes in is as desirable as the toy itself. We will go over some quick techniques and look at some inspirational pieces.
Mid-Way Survey Results
Let's hear what you all had to say.
Character Design Crit
Everyone will present their work and quickly discuss it.
Artists to Watch
KKAMoxo
Sucklord
Coarse
Obvious Plant
Packaging
Packaging. Is it utilitarian? Gets your product safely from point A to point B? Is it eye catching? Encouraging shoppers to make impulse buys? Is it something more? An experience? A joy to unbox?
Is your toy's package part of the art work? Is the package the whole point? Is the package how you want it displayed? Is your toy meant to stay inside the package? Is the unpacking process part of the experience? We will examine all of these possibilities.
Resealable bags
Straightforward, simple, and cost effective.
Resealable Black Matte Plastic Bags
Header Card and Bag
A take on some classic packaging for a toy. It evokes a "cheap toy" feeling.
Blister Packs
Vacuum formed plastic bubbles adhered to a card back. Another take on children's toy packaging. Typically, used for action figure-like sculpts.
Hanger Holes
Hanger holes are the punched out part that allows the package to hand on a display rod or peg.
Handheld Hanger Hole Punch
Hand Held Slot Punch
Off the Shelf/Ready Mades
Boxes, tubes, and bags can all be purchased in bulk and used as packaging.
Cardboard Tube/Poster Tubes/Postal Tubes
Colored Shipping Tubes
Clear Retail Tubes
Clear Plastic Tubes
Wooden Boxes
Take Out Containers
Foam Inserts
Art Boxes
For some pieces, the boxes are as much a piece of art as the toy.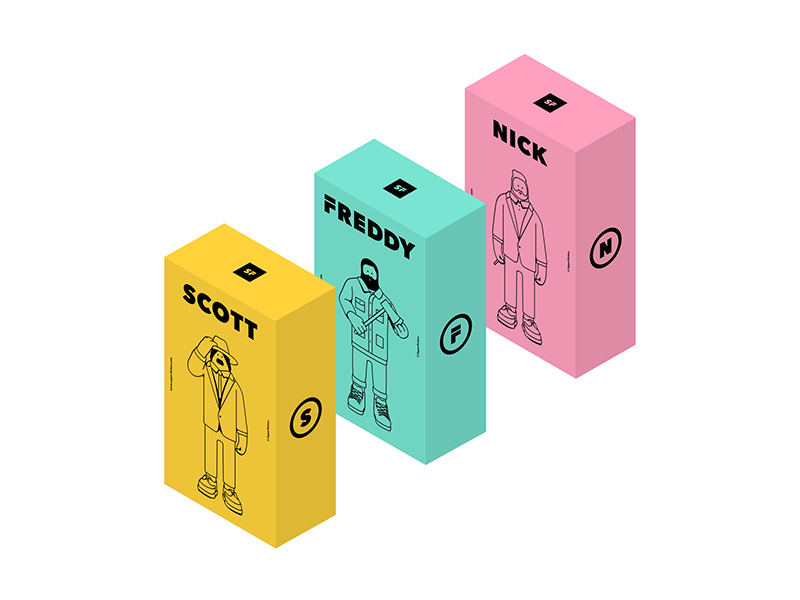 Custom Packages
Start with a paper prototype
Vacuum Formed Packaging
Blind Boxes
Custom Labels
Add labels to your packaging. Have the toy's name displayed proudly. Add classic toy text: For ages 10 and up, Fun for all ages, Chocking hazard: Contains small parts, etc.
Demo
Box Building and Custom Laser Cutter Labels
Displays
Assignment
Keep working and refining your toy. Experiment with finishes and materials. Remember, you will be making 4 or more of them.
---
Related Reading/Viewing