Overview
Last bit about animation (for now) and then on to Sculpting
Midway Survey Results
I'd like to go over the results from the midway survey.
Also this
Animation
You can animated a single part or assembly in the Animation Workspace. You can move the camera view around, create exploded views, add annotations, and export the video. Fusion 360 is not a full-blown animation software but it can be great for quick/simple videos.
Noel Rubin (teknoelogy) has a lot of great Fusion 360 work on Instagram. A lot of his documentation is animated Fusion 360 assemblies.

Animation Workspace – we need to change the workspace from Design to Animation. Our tool will change.
The timeline is similar to other video editing software. Adding frames and moving parts in to new positions.
Exploded view – a diagram, picture, schematic or technical drawing of an object, that shows the relationship or order of assembly of various parts. It shows the components of an object slightly separated by distance, or suspended in surrounding space in the case of a three-dimensional exploded diagram. Wikipedia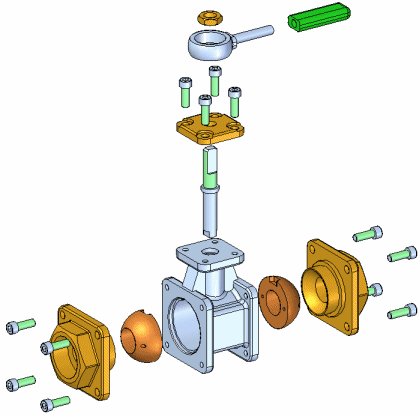 This is such a common, and sometimes tedious, operation that there is an automated Exploded View feature in the Animation workspace. And it "usually" gets things right.
Sculpt Function
We are going to leave hard-edge modeling for a bit and try something very different, Sculpting. This is a new form of modeling for us. It will be frustrating. We will most likely create some blobby, lumpy, odd forms.
First click Create Form.
From the new tool bar select "Box".
You can change the number of faves along the width, length, and height. For now, keep the number of faces low for simplicity sake.
You will most likely want to mirror the work you are doing on both sides. Make sure you have Mirror selected under Symmetry.
Right click on a face, line, or point and select "Edit Form", from there you can push, pull, and rotate.
In-class exercise – We will all take some time and create a sculpt. Let's get a feel for it the new technique. Push and pull faces and lines and points. It will quickly become deformed and confusing.
Use canvases to help create sculpted forms. I tried (and failed) to sculpt a Munny head using these two images.
Add an image as a canvas and try to match the form as close as possible. I started with a sphere and fumbled my way through it. I found the ears to be the most difficult part.
Assignment
Create a sculpted model. It can be based on canvas drawings (it probably should). Let's put a time limit on the sculpting process: 2-3 hours of sculpting. Post to your blogs.