Overview
In this class we will introduce ourselves, talk about what will be expected in this class, talk shop safety, and start our tour of the shop.
"Don't blame the tool, blame the carpenter."
The Goal
The goal of this class is to make you more informed more confident makers.  Teach a respect and healthy fear of tools (both hand and power).  And to get you started on the long road of craftsmanship.
It won't happen over night, but the more you make, the better you will become.
Grading
You will be graded based on attendance 20% (getting to class on time), class participation 20%, and projects/documentation 60%.
The Website
The class site has all of the information you need for the class – lectures, assignments, and links.  But it also has a list of valuable Resources, both online and local vendors, and How To's, step by step instructions and videos.
If you have a favorite vendor that is not on the list or want a particular how to, let us know and we will add it.
What I'm Looking For and Care About
Safety
Working Hard
Craftsmanship
Secrets to Success
Buy/gather materials and tools early and get more than you need
Fail fast, experiment, try things, then try something else
Start early, a week is not much time
Misconceptions
There is no flat, no straight, no level.  Nothing is parallel or perpendicular.  These are concepts only, they do not exist.  There is no perfect.
All we are doing is getting close enough, good enough, within tolerance.
Show and Tell
Every week we will show off our work.  This is a time to talk about techniques and tools used, failures and roadblocks encountered.  We should all be asking questions, how'd you do that?  Where'd that come from?  What tool(s) did you use?
This "flashlight" is the oldest thing I have that I made.  I made it for my grandma when I was around 10 years old. A couple of C batteries, some electrical tape, a button, and an old Christmas light.
Tool of the Week
The spring loaded center punch is a very handy tool for scribing and marking holes in wood, metal, and plastic.  Simply push it  down on the material until the release mechanism is engaged.
Drill bits typically "travel" when initially making contact with material when there isn't a small indent for them to grab on to.
Tip of the Week
"To invent, you need a good imagination and a pile of junk."
— Thomas Edison
Get to know the junk shelf.  There is no better source of free materials and inspiration than this ever changing cupboard of clutter.  Look to the junk shelf, love the junk shelf.
Safety
Wear the proper shop clothing.  No shirt, no shoes, no shop.  Wear clothes you don't mind getting dirty.  Tie back hair and roll up sleeves.  No jewelry on you hands, wrists, or neck.  No ties, no lanyards, no scarves.
Wear goggles or face shields when using power tools.  Wear a dust mask and gloves when necessary.  Never wear gloves while operating power tools in the shop.
Rule of thumb: if you think you should be wearing protective gear, wear protective gear.
If you are unsure of how a tool works or think that it may be broken or malfunctioning, grab an instructor or shop staff.  Never use a power tool you are unfamiliar with.
If a tools breaks down on you (a blade snaps, makes a weird noise, suddenly stops), you are not in trouble, it happens.  But please let someone on the shop staff know.  We can't fix it, if we don't know it's broken.
A clean shop is a happy shop.  Always clean up after yourself.  Leave the shop better than you found it.
Tools
The shop provides many tools for students, but you will inevitably need/want to purchase your own.  Start with a sturdy toolbox, a set of standard screwdrivers (both phillips and flat, both small and large), pliers, wire strippers, clippers, a pack of standard drill bits, and a pair of good scissors.  Build up from there.
See Adam Savage's full list for starter tool kit recommendations (great list).
Rules for Tools
Get yourself some tools
Take care of your tools
Never lend your tools
Drills, Routers, and Rotary Tools
Hand Drill
Probably the most used power tool in the shop.  Drills make holes in material by spinning bits.  The bits are held in place by tension from the chuck.  Some drills we have in the shop need a chuck key, some are keyless.
Remember to place batteries in chargers when drill is not in use.
Driver
Drivers are primarily used to drive in and remove screws and other fasteners.  They can be used as drills but are usually less powerful.
Drill Press
One of the most useful power tools in the shop.  Used primarily to drill perpendicular holes into material.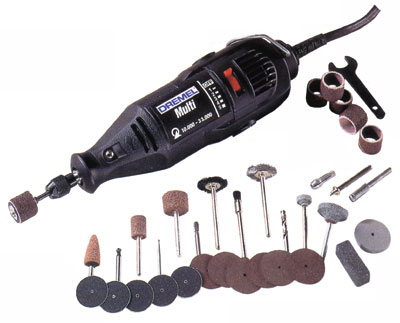 Dremel/Rotary Tools
These tools can sand, shape, cut, drill, polish, and sharpen.  Dremel bits are held tightly in a collet, similar to a drill's chuck.
Tip: if you plan on using this tool often, get your own bits.  They run out quickly and parts get lost as the semester goes on.
Router
The router is loud and scary, but an incredibly versital tool.  Great for cutting decorative edges, channels, or shaping wood.  Router bits come in all shapes and sizes and are held in place using a collet (similar to a rotary tools). The shop's CNC is essentially a computer controlled router.
We will go over the router in depth in next week's class.
Types of Drill Bits
There are numerous types of drill bits out there.  Most are used for very specific operations.  The list below contains a few of the bits you will typically use and specialty bits that will add an extra level of polish to your projects.
Standard Drill Bits
An all-around bit, good for wood, metal, and plastic.
Brad Point Bits
Great for drilling holes in wood.
Spade Bits
Great for removing material (hogging out), leaves a ragged looking hole.
Forstner Bits
Drill very clean holes in wood.  For best results, use in a drill press.
Hole Saw
A hole saw, also known as a hole cutter, is a ring shaped saw blade, which creates a hole in the workpiece without having to cut up the core material.
Step Drill Bits/Unibit
Ideal for drilling holes into thin materials such as stainless steel, copper, brass, aluminum, plastic and laminates.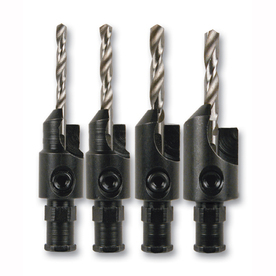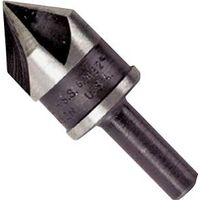 Counter Sink Bits
Used to accommodate countersunk screws in wood, metal, and plastic.
Driver Bits
Used for screwing in fasteners.
Router Bits
There are numerous types of router bits for different types of cuts and profiles.  We will go over the router and router bits in-depth in next week's class.
In Class Demo: Drill Press
The drill press is one of the most useful tools in the shop.  We will cover the following:
How to chuck up a bit and other basics
Changing speeds of the drill press
Use of stops, clamps, and vices
Use of sacrificial boards to prevent tear out
Changing angles, changing height
Use of lubrication and pilot holes
Assignment
Build a flashlight using any tools or techniques you'd like.  I'm defining a flashlight as:
I'll be pretty forgiving of these rules as long as it lights up.
Document and post your progress and project to your blog.
What You Should Try
Try drilling holes using different materials and different bits.  Get a feel for each type.  Get comfortable with the drill press, it is one of the most used tools in the shop.
What You Should Buy
If you are going to buy one tool for this class, I recommend a standard set of drill bits (wood, metal, plastic).  Drill bits dull and break over time, so it is very useful to have your own set.
Find them at Home Depot or Amazon (or just about any hardware store anywhere).
---
Related Reading/Viewing
Adam Savage's Beginner's Toolkit
How to Make a Flashlight From Scratch
A Beginner's Guide to Drills and Bits