Overview
In this class we will discuss a variety of commonly used fasteners and material options.
"Screws not Glues"
But if you must use glues – Adhesive Chart and this to that.
Show and Tell
We'll review and discuss last week's assignment. What processes/techniques/tools did we use? Any tips? What would we change if we could do it all over again?
Tool(s) of the Week
Thread measuring gauge, should be in every shop. The fastest way to identify what the proper thread size of a fastener is.
Tap and Die set, cuts screw threads into metal, plastic, and wood.
US Tap and Drill Bit Size Table
List of Drill and Tap Sizes (wikipedia)
Rivet Gun, installs semi-permanent rivet fasteners in sheet material.
Tip of the Week
What's the name of that thing that does that thing?
It's hard to Google something when you don't know what it's called. Look through physical paper catalogs of parts and tool suppliers to find parts you don't know the names of. See McMaster Carr, Rockler, Woodcraft.
Fasteners
There are so many different types out there, we could honestly spend 7 weeks covering nothing but fasteners. It would be boring, but we could do it. We will stick to the basics.
Nails
Finishing nails, roofing nails, cut nails, tacks, penny nails, brads, hammered antique decorative nails. Nails come in a variety of shapes and sizes. They also aren't often used here at ITP. Nails are typically used for attaching wood to wood and require a hammer. The trick is to use the correct nail for the job.
Screws
All screws require a tool to fasten them. Typically, a screwdriver (usually a flat head or Phillips) or Allen wrench is required.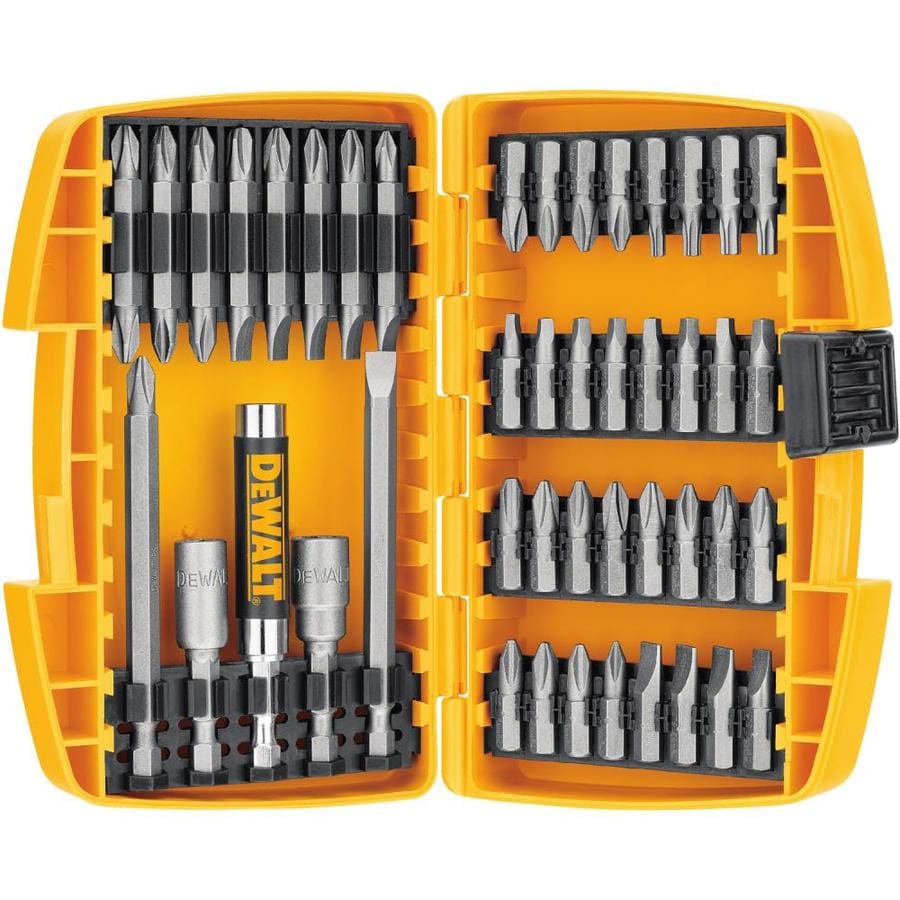 Wood Screws
Typically, wood screws come in counter sink (remember the counter sink drill bit from Week 1?) or pan head styles. They are generally used to attach wood to wood.
Sheet Metal Screws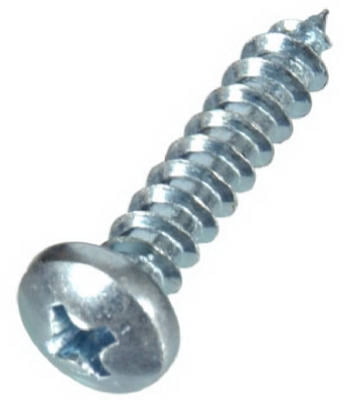 Sheet metal screws have a course thread and are ideal for attaching sheet metal to sheet metal.
Machine Screws
Machine screws have a variety of head types and have fine threading. They are typically used to fasten enclosures, mechanical parts, and precision devices.
Set Screws
Set Screws are headless and typically require an allen wrench. They are often small and used to secure collars on shafts and axles.
Pocket Screws
Pocket Screws require a Pocket Screw Jig to be used correctly (remember from Week 2). Typically, used to make quick, strong joints with wood.
Rivets
Rivets require a rivet gun and are a somewhat more permanent fastener. Commonly used to attach sheet material to sheet material. The rivet is placed in a hole and the gun is used to squash it in place.
Dowel Pins
When used with a doweling jig (remember week 2) and wood glue dowel pins make great connectors for wood to wood joints.
Threaded Inserts
Threaded Inserts are inserted into material and have internal threads to accept screws. They easy, fast, and reliable. And like the image says, they can be used in metal, plastic, and wood.
Zip ties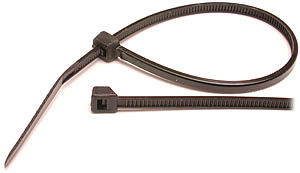 In a pinch, zip ties can make great fasteners.
Velcro
Velcro is great for mounting batteries/battery packs and hold paper/cardboard enclosures together.
Washers, nuts, etc.
Don't forget that you will often need washers and nuts when using screws. And just like fasteners, they come in all shapes and sizes.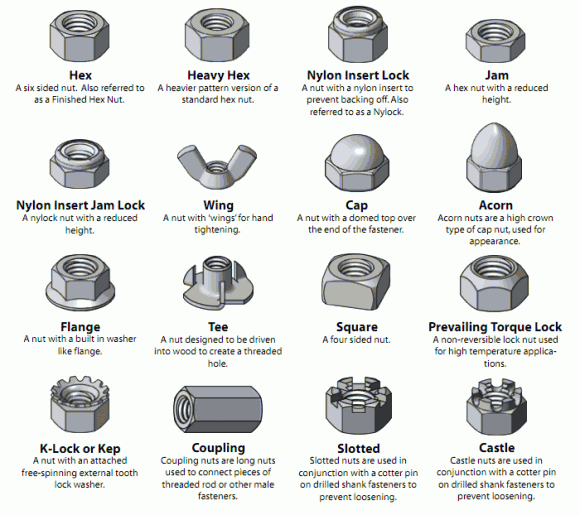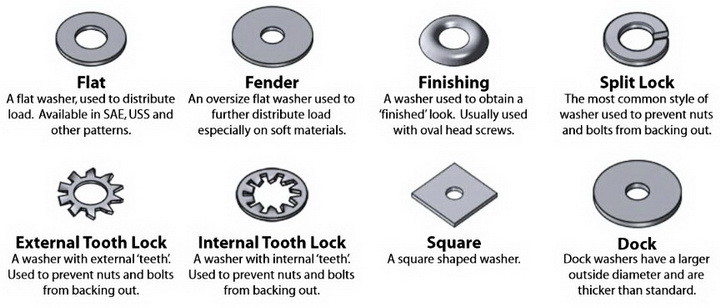 Decorative Hardware
Construct Me! Hardware Collection
"Our screws, hinges, nuts, nails, brackets and other hardware add value, character and a richer narrative. In our created collection, you will find nails that reduce the risk of hitting your finger, two way tie wraps, fancy hinges and screws that smile at you."
Stainless Steel Cap Cover Decorative Mirror Screws
Silver Cone Spikes Screwback Studs
Bronze Bullet Rivet /Cone Rivet / Spike/Screw Studs
Materials
Acrylic and plywood are very popular materials at ITP, due to the fact that they are reliable when laser cut or CNC'd. But there is a world of other materials out there. The following is just a small sampling.
Sheet Metal
Aluminum, copper, brass, steel, etc. Comes in all sizes and materials.
Natural Wood
Wood comes in a variety of sizes, shapes, and species.
Cardboard
Foamcore
Cheap and easy to cut by hand with a blade. Great for models and quick mockups. You can cut halfway through to create angles and hinges.
Aluminum Stock
Blocks, rods, tubes, strips, and channels. Aluminum is a soft easy to machine metal.
Machinable Plastic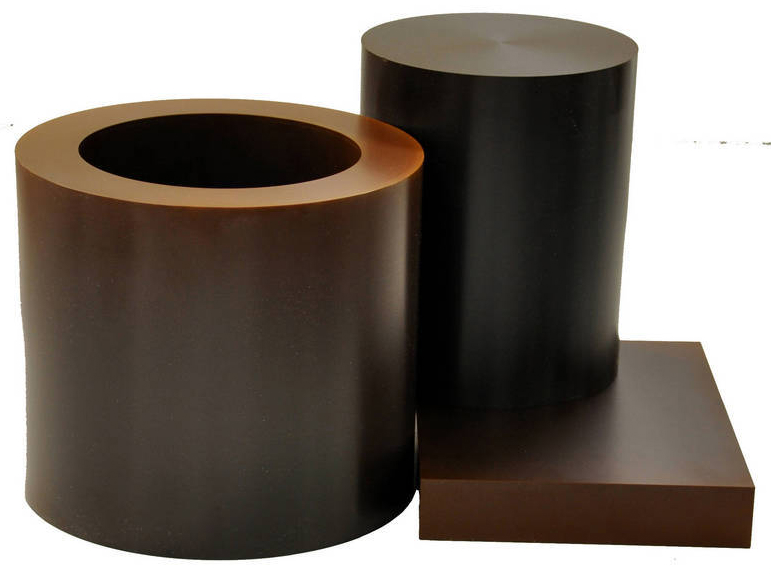 Typically, works like wood (watch out for melting though). Comes in an array of colors and sizes.
Delrin
Also known as acetal, delrin can be cut in the laser, similar settings to acrylic. It is very stiff and has low friction, great for mechanisms.
High Density Foam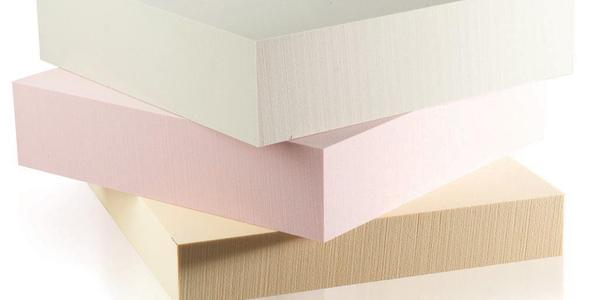 Cork
Wood Veneer
Thin sheets of wood. Lighter species are actually translucent. Easy to tear and subject to warping. Laser cut very well.
Corian
Machines very well, comes in an array of colors, and Corian can be glues to itself without leaving a visible seam. It is an expensive material.
Two Material Projects
Below are a few examples of projects using primarily two different materials.
Corian and Bamboo Test Tube Vase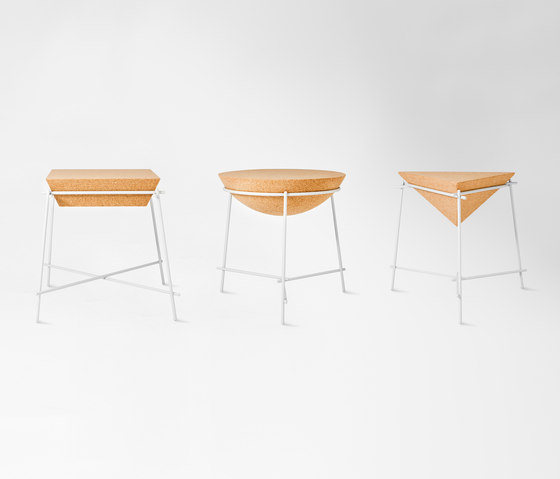 Tables BASIL
In Class Demo
Demo of metal cutting miter saw and scroll saw.
Assignment
Fabricate something using primarily two different materials. Let's say the project is roughly 40% one material, 40% the other. The materials cannot be acrylic or plywood (unless you are gluing up your own plywood). The work should be held together using fasteners of your choosing.
What you Should Try
Try experimenting and working with a material(s) that is new to you. Pop rivets into sheet metal, tap threads into plastic, or machine and shape aluminum.
What You Should Buy
Buy extra material and fasteners. If you fabricate, you will always need more down the line.
---
Related Reading/Viewing
Materials ConneXion (NYU Policy)
Retro Racer, Sheet Metal and Pop Rivets
Turning Plastic Bottles into String
Waves of Grain (amazing)
Love Letter to Plywood by Tom Sachs
POLIGON Sheet Metal Sculptures
Refresh Boring Old Furniture With Smiling Screws And Glow-In-The-Dark Nails