Overview
We will present our mechanism projects and then start our exploration on wheeled toy design.
"Lego produced 381 million tires in 2011, making them the world's largest tire manufacturer by number of units produced." – Wikipedia
The oldest known wheelset is part of a ceramic wheeled toy.  It comes from a culture that was not known to use wheels for any other purpose.  Toys, arguably, are the first "real" use of the wheel.
Wheeled bull toy – 3900 BC – Cucuteni-Tripolye culture of western Ukraine
Playsam Streamliner Classic Organic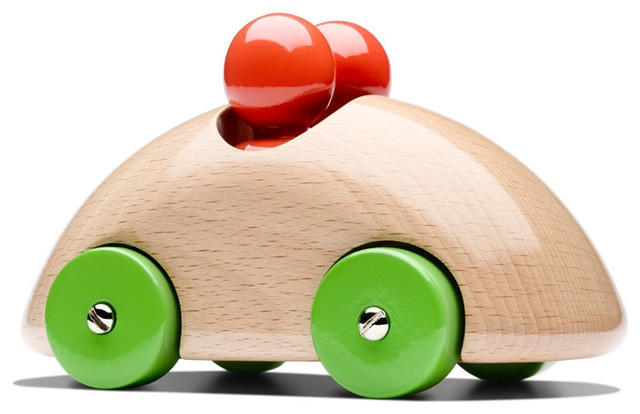 Toys/Toy Design is a large category, we are going to focus on specific elements and specific toy types: tops, wheeled carts, and pull toys.
Design Considerations
Toys have unique design considerations.
Safety – chocking hazard, toxic, batteries, magnets
Strings, cords, and necklaces can strangle infants. Infant toys that include cords can present a strangulation hazard if the cord is put around an infant's neck. The American Society for Testing and Materials ("ASTM") voluntary standard for pull toys states that in "pull toys intended for children under 36 months, cords and elastics greater than 12 inches long shall not be provided with beads or other attachments that could tangle to form a loop". Parents should remove beads, knobs, or other attachments from their child's pull toy cord if the cord is over 12 inches long. via
Pull Toys: Cords, straps, and elastics greater than 12 in. (300 mm) long for pull toys intended for children under 36 months of age shall not be provided with beads or other attachments that could tangle to form a loop. via
Robust
Toys get played with, hard.  They are thrown, dropped, hammered.  Toys must be very robust.  Toys also break, but when they break, they must be safe.
Material choice is important.  No acrylic or other materials that can easily shatter.  No toxic materials or finishes (lead paint, etc).
Avoid certain species of wood: walnut and purple heart due to allergies.
Color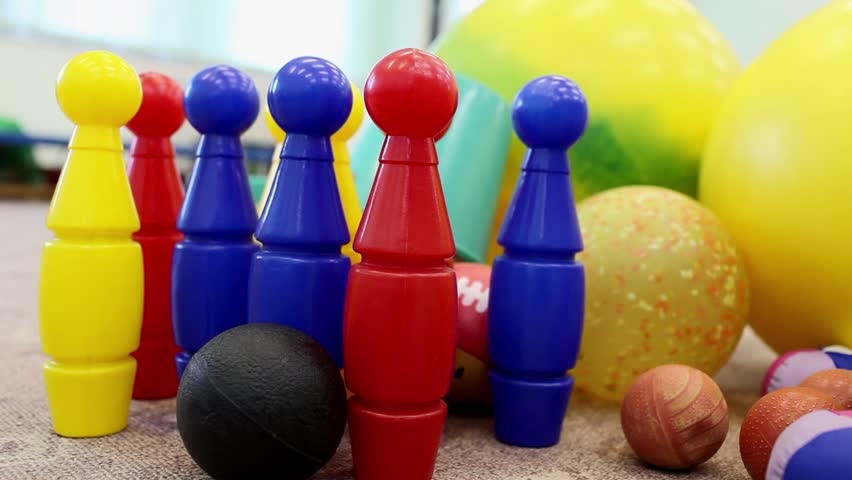 An object can be recognized as a toy simply by its coloring.  Bright primary colors.  Shiny finishes.
Weight
Toys can not be too heavy, a child must be able to lift and play with it.  Toys will be thrown, it's a fact.  The heavier the toy, the more of a danger it poses when tossed at an unsuspecting little brother or sister.
Age Ranges
The intended age for a toy determines a lot.  The size, sophistication.  An older child might find a simpler toy a "baby's toy".
Fun Factor
This is secret sauce of good toy design and the hardest to define.  What engages a child (or an adult) to play with a toy.  Why are some toys timeless and others fads?  What was your favorite toy growing up?  Why?
Sound
Sound is often overlooked when designing a toy.  A simple squeak or click can be very satisfying.  Think baseball card in the spokes.
Toy Types
Tops
Well balanced spinning top.  Generally a low center of gravity.  Incredibly satisfying.
Tippy Top
Wheeled Toys
Simple wheeled toys.  Can have propulsion or be push powered.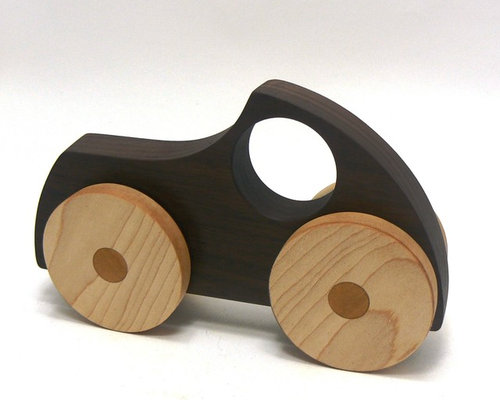 He-Man Attak Trak
Pull Toy
Simple 2, 3, or 4 (or more) wheeled objects, pulled by a string.
Kinetics – Getting Movements for Free
Springy tails, floppy ears, wiggling bodies.
Springs
Wiggle
Mechanism
Sound
Gong
"Flapping" Wheels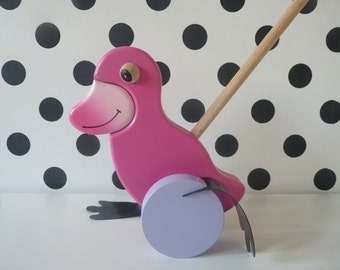 Drumming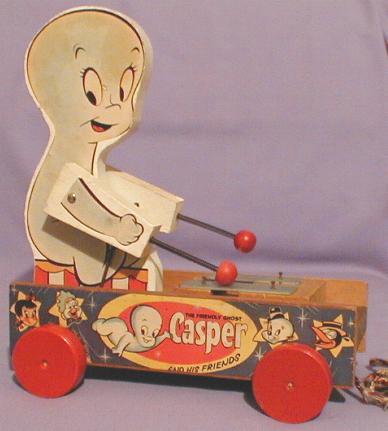 Everything all in one
Art Toys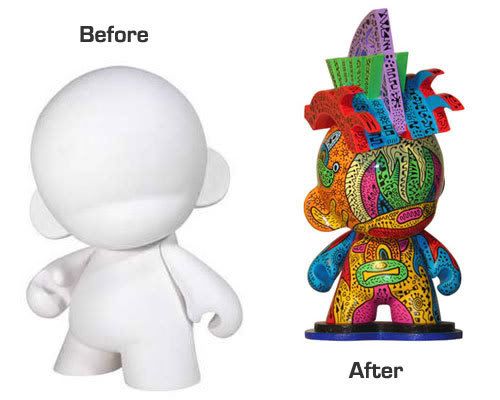 Nostalgia, Girl/Boy Toys, Educational, Sustainable
Assignment
Pull Toy assignment.
---
Related Reading/Viewing
Build a Classic Wobble Duckie Pull Toy
Consumer Product Safety Commission: Toys
Push Along/Pull Along Toy Safety
Old Fashioned Toys From Christmas Past
Thorsten Van Elten Small Dumper Wood Toy Dump Truck